23.03.2022
Portable, cordless devices for hundreds of working strokes
Universal battery-powered devices for extra flexibility in clinching, punching, embossing punching, embossing and self-piercing riveting
A hand-held, battery-powered device is the perfect solution for prototype construction and product testing in serial production, work on construction sites and at training centres, or simply to manufacture small series. In addition to machines designed for specific workpieces or hand-held pneumo-hydraulic devices requiring hose connections and pressure boosters, our cordless, portable hand-held units open up new possibilities and offer many advantages. They cater for a wide range of techniques in sheet metal and profile machining, are adaptable to many situations and easy to handle while also saving money. Depending on the force required, you can complete up to 400 working strokes per battery charge. Apart from clinching to join sheet metals or profiles, our portable units can also be used for self-piercing riveting, punching, embossing punching and embossing.
ECKOLD customers have been relying on our machines to master special jobs and demanding specifications, taking full advantage of the technology behind our hand-held portable devices. For some operators, space is a key factor, as ECKOLD project managers know.
Such operators appreciate the fact that a single basic, battery-powered machine can be fitted with various heads to cater for any tasks from clinching, punching, embossing punching to embossing and self-piercing riveting. As ECKOLD has for decades been specialising in joining methods and acts as a trusted project partner of the automotive industry, the company has the experience necessary to produce not only excellent standard machines but also custom-engineered solutions.
On the one hand, ECKOLD thus offers standardised devices such as the portable MCD 30/50 AH clinching frame with lithium-ion battery and charger that fits into a compact transport case.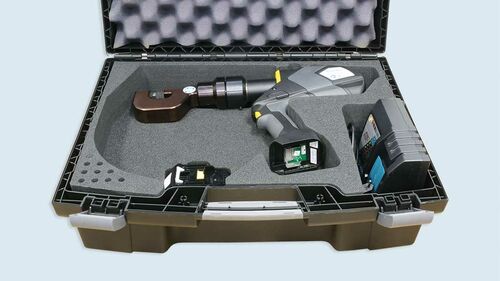 On the other, the company devises customised frames to meet specific requirements as regards throat size and tool access to workpieces.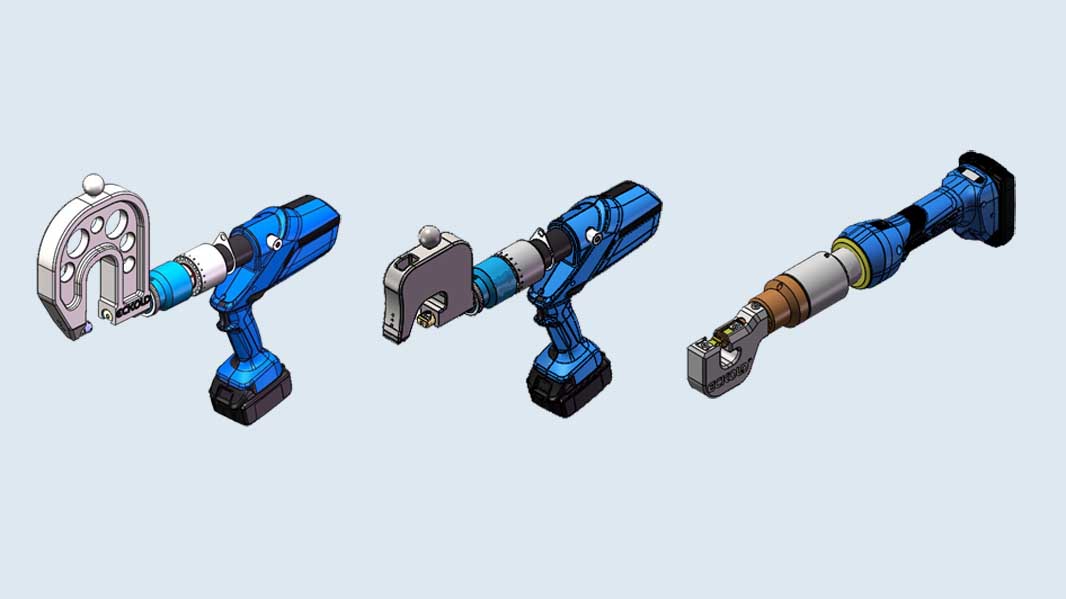 For punching and embossing, ECKOLD has come up with a number of remarkable solutions, especially for prototype production. By adapting the shape of the battery, our engineers were able to devise exceptionally cost-effective solutions, including optional equipment for the reproducible positioning of the ECKOLD punching and embossing frames.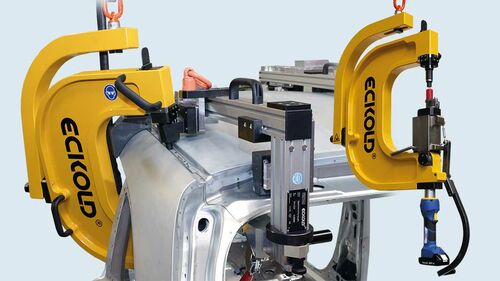 For punching embossing, ECKOLD has gone the extra mile and now offers exchangeable tool kits. With these tools, manufacturers of small series can for instance first emboss their sheet metal workpieces, and then punch the holes for the fasteners – simply by changing tools between the two processes.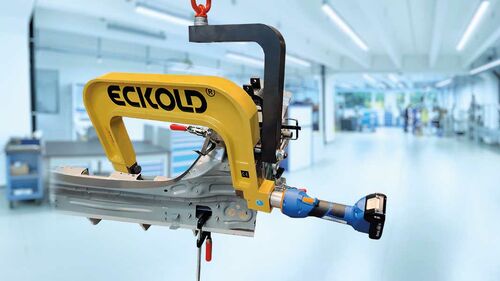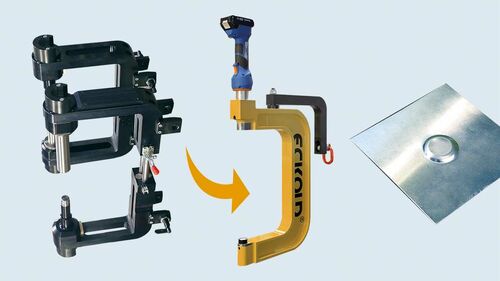 These machines are also very suitable for relatively simple routine tasks where workpieces are embossed by fixed stops mounted in the device.
Apart from the exchangeable machining heads, the main special feature of the latest model is the drive unit with a range of new functions. The force applied by the machine can be set in steps of 1 kN from 10 to 50 kN and is indicated on a display. This enables operators to safely join various materials and sheets of various thickness. A single battery charge caters for up to 400 working strokes, depending on the force settings. Using a special app, the operator can access the device's data log via Bluetooth to obtain detailed information on working strokes, duration of operation, force settings and much more.